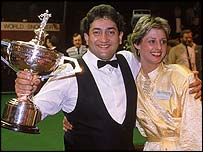 1986 World Championship – Wikipedia
---
The world number 16 Joe Johnson defeated Davis 18–12 in the final to win his sole ranking event. Prior to the event, bookmakers' odds for a Johnson victory were 150–1.
The defending champion was Northern Ireland's Dennis Taylor lost in the first round of the event 10-6 to Mike Hallett.
A total of 20 century breaks were made during the event, the highest of which was a 134 made by Davis.