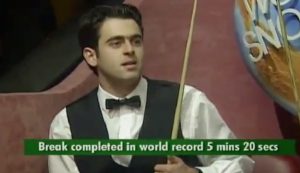 CUESTARS ACADEMY has launched brand new 'Break' quizzes – with a difference.
A random fixed number of questions from a total pool of 147 will be selected every time you have a go.
And you have five minutes and twenty seconds to answer them. This time matches Ronnie O'Sullivan's fastest maximum break made against Mick Price in the first round of the 1997 World Championship in Sheffield.
To misquote from Animal Farm, some questions have more than one correct answer but some correct answers are more correct than others.
The four possible answers to each question carry zero, one, two or three points. You can have as many goes as you like to beat your break. But each time the questions may be different.
Scroll down for the Break Quizzes and Leaderboards.
Good luck!
John Hunter
Cuestars Academy
If you enjoy these quizzes feel free to use this button to show your thanks 🙂
---
Break Quizzes
---
Peoples Champions Break Quiz
| quiz_id | Name | Results average | Highest Break |
| --- | --- | --- | --- |
| 235 | John Hunter | 96.60 | 142 |
Top Trumps Break Quiz
| quiz_id | Name | Results average | Highest Break |
| --- | --- | --- | --- |
| 226 | Bradley Cowdroy | 70.75 | 104 |
| 226 | Eddie Mason | 40.82 | 60 |
| 226 | Herman Desmier | 37.41 | 55 |
| 226 | Marc Lockley | 40.14 | 59 |
| 226 | Ray Mears | 36.05 | 53 |
| 226 | Tony Lyles | 74.15 | 109 |
| 226 | Trevor Thorn | 44.22 | 65 |
Womens Snooker Break Quiz
| quiz_id | Name | Results average | Highest Break |
| --- | --- | --- | --- |
| 215 | Andy Lambley | 76.87 | 113 |
| 215 | Andy symons | 70.07 | 103 |
| 215 | Gavin Carney | 80.95 | 119 |
| 215 | Ryan Mears | 90.48 | 133 |
| 215 | Trevor Thorn | 55.78 | 82 |
Nicknames Break Quiz
| quiz_id | Name | Results average | Highest Break |
| --- | --- | --- | --- |
| 206 | Alan Harvey | 82.31 | 121 |
| 206 | Alex Pimenov | 93.20 | 137 |
| 206 | Andy Bannan | 72.11 | 106 |
| 206 | Andy Lambley | 84.35 | 124 |
| 206 | Andy Savage | 53.74 | 79 |
| 206 | Andy symons | 74.15 | 109 |
| 206 | Billy castle | 75.51 | 111 |
| 206 | Bradley Cowdroy | 70.75 | 104 |
| 206 | David Lilley | 71.43 | 105 |
| 206 | David Thomson | 63.95 | 95 |
| 206 | Eddie Mason | 35.37 | 52 |
| 206 | Gavin Carney | 82.99 | 129 |
| 206 | Jake S | 76.87 | 113 |
| 206 | Jerome Jamart | 37.41 | 55 |
| 206 | John Hunter | 73.47 | 108 |
| 206 | Kenneth Rackstr | 48.30 | 71 |
| 206 | Les | 82.31 | 121 |
| 206 | Lles | 71.43 | 105 |
| 206 | Marc Lockley | 64.63 | 95 |
| 206 | Mark King | 68.71 | 101 |
| 206 | Nickbirney | 68.71 | 101 |
| 206 | Richard Cooper | 41.50 | 61 |
| 206 | Richard mcevoy | 49.66 | 73 |
| 206 | Robert East | 37.41 | 55 |
| 206 | Rory lord | 61.90 | 91 |
| 206 | Ryan Mears | 98.45 | 147 |
| 206 | Scott haynes | 53.74 | 79 |
| 206 | Stewart Ball | 85.71 | 126 |
| 206 | Thomas McEvoy | 39.46 | 58 |
| 206 | Trevor Thorn | 59.18 | 87 |
World Champions Break Quiz
| quiz_id | Name | Results average | Highest Break |
| --- | --- | --- | --- |
| 180 | Andy Bannan | 59.18 | 87 |
| 180 | Anthony Rice | 58.50 | 86 |
| 180 | Billy castle | 40.14 | 59 |
| 180 | David Thomson | 48.30 | 71 |
| 180 | Eddie Mason | 36.73 | 54 |
| 180 | Gavin Carney | 78.91 | 125 |
| 180 | herman desmier | 39.46 | 77 |
| 180 | Les | 69.39 | 102 |
| 180 | Marc Lockley | 44.22 | 65 |
| 180 | Mark Benzey | 26.53 | 39 |
| 180 | Ryan Mears | 97.96 | 144 |
| 180 | Scott Haynes | 31.97 | 47 |
| 180 | Steve Ashton | 36.05 | 53 |
| 180 | Trevor Thorn | 58.50 | 86 |
Snooker Break Quiz
| quiz_id | Name | Results average | Highest Break |
| --- | --- | --- | --- |
| 184 | Adam | 71.43 | 105 |
| 184 | Alan Harvey | 72.45 | 131 |
| 184 | Andy Bannan | 75.52 | 129 |
| 184 | Andy Jackson | 63.27 | 93 |
| 184 | Andy Lambley | 75.51 | 111 |
| 184 | Anthony Rice | 91.49 | 143 |
| 184 | Billy Ginn | 78.14 | 137 |
| 184 | Bradley Cowdroy | 75.28 | 130 |
| 184 | Chris Parsons | 48.30 | 71 |
| 184 | Chris Wyatt | 85.54 | 138 |
| 184 | David | 25.17 | 37 |
| 184 | David Baker | 78.91 | 116 |
| 184 | Eddie Mason | 31.97 | 47 |
| 184 | Freddie Turner | 59.18 | 87 |
| 184 | Gary Egan | 45.58 | 67 |
| 184 | Gavin Carney | 92.22 | 143 |
| 184 | Geoff Edge | 87.75 | 134 |
| 184 | Graham Middleto | 82.99 | 122 |
| 184 | Herman Desmier | 79.20 | 136 |
| 184 | Herrebout | 49.66 | 73 |
| 184 | Ian Mashford | 31.75 | 57 |
| 184 | Jack | 87.42 | 129 |
| 184 | Jacque Wild | 76.88 | 129 |
| 184 | Jake S | 85.03 | 125 |
| 184 | JakeS | 89.12 | 131 |
| 184 | Jamie rae | 55.78 | 82 |
| 184 | Jones Lesikara | 31.29 | 46 |
| 184 | Kieron Keough | 67.01 | 113 |
| 184 | Les | 72.45 | 135 |
| 184 | Lev147 | 89.57 | 133 |
| 184 | Louie | 46.26 | 68 |
| 184 | Marc Lockley | 59.86 | 88 |
| 184 | Mark Pitfield | 90.48 | 133 |
| 184 | Mason | 56.46 | 83 |
| 184 | Mason Hollow | 72.11 | 106 |
| 184 | michael | 66.67 | 98 |
| 184 | NEAL Blake | 58.50 | 86 |
| 184 | Ray Mears | 50.11 | 79 |
| 184 | Rich Saunders | 67.35 | 99 |
| 184 | Robert | 25.17 | 37 |
| 184 | Robert East | 55.10 | 81 |
| 184 | Rory lord | 52.38 | 77 |
| 184 | Ryan Mears | 98.30 | 146 |
| 184 | Scotthaynes | 36.73 | 54 |
| 184 | Sean Davies | 48.98 | 72 |
| 184 | Steve Ashton | 40.82 | 60 |
| 184 | Stingrae147 | 85.03 | 125 |
| 184 | Sybren147 | 59.18 | 87 |
| 184 | Tapola | 27.89 | 41 |
| 184 | The Thomson | 84.35 | 124 |
| 184 | The Thomsons | 81.63 | 141 |
| 184 | Tom King | 45.58 | 67 |
| 184 | Tony Lyles | 85.31 | 139 |
| 184 | Trevor Thorn | 57.82 | 85 |